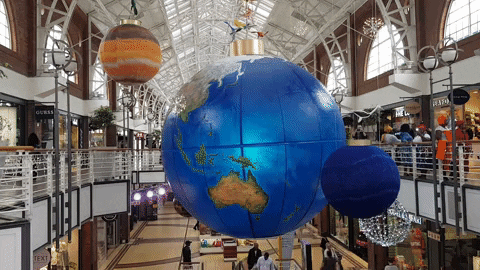 How's this for celebrating in a uniquely African way?
This year, the most popular precinct in Cape Town, the V&A Waterfront is re-imagining the festive season – creatively.

Themed, Joy from Africa to the World, decorations tell an African story that's inspiring, responsible, authentic – and can be embraced by all communities no matter their creed.
Because the Waterfront's mission is to reduce, re-use and recylcle, it called for the help of Platform Creative Agency, that commissioned top local handcrafters and designers to re-conceptualise the mall's seasonal decorations.

Since "handcraft is quintessentially African" said CEO Cathy O' Clery " we wanted to showcase something not borrowed from other continents."
This is why decorations were re-interpreted in novel ways, allowing resources to remain local and reach grassroots.

Over 140 African artisans have created a vibrant wonderland made from upcycled materials. Enterprises like Ronel Jordaan who cover Christmas tree frames in her signature felt; Wola Nani with papier-mache decorations created from the V&A's recycled bin paper; a menagerie of animals from beading organisation Monkeybiz; specialist basketry from Design Afrika; designer Sindiso Khumalo & creator of The Summer Palace – a wonderland where children meet Mother Earth and magical beaded creatures; furniture-and-lighting designer Thabiso Mjo; Amatuli product purveyors; and uber recyclist Heath Nash's unique chandeliers of fantastical flower creations co-designed by his team in their Langa workshop from plastic bottles.
Apart from ditching fake snow, to say nothing of replacing Father Christmas and his North Pole elves, it's about instilling pride, and creating jobs. The project gives back to communities. 90% of the decorations have been made by women. Behind each basket is a woman. The quirk, the wobble, the weave, every basket is uniquely handmade and carries a bit of every woman along with it.

The project is also about teaching consumers to think before they shop.
To think about what the stories are behind the products they buy, about who made the products, and who they benefit.
To shop for joy and magic – consciously. Isn't this just the best way to celebrate the true spirit of giving?

Acknowledgment: V&A Waterfront magazine; traveller24.com; businessinsider.co.za; iol.co.za